Inverting color maps in Matplotlib
Matplotlib
chevron_right
Cookbooks
chevron_right
Colors Cookbook
local_offer
Python
●
Matplotlib
Tags
tocTable of Contents
expand_more
To invert a color map in Matplotlib, attach the _r suffix to the color map, like so:
plt.
scatter
(x, y,
c=
z,
cmap=
plt.
cm
.
gray_r
,
s=
200
,
edgecolor=
'black'
)
Here, the key is that we used gray_r instead of gray, which reverses the color map.
The output we get is as follows: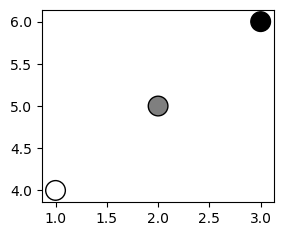 Since we used the inverted color map, the higher the value, the darker it is.
mail
Join our newsletter for updates on new DS/ML comprehensive guides (spam-free)

Did you find this page useful?
Ask a question or leave a feedback...
Enjoy our search
Hit
/
to insta-search docs and recipes!