Filling in the area underneath a curve in Matplotlib
tocTable of Contents
expand_more
mode_heat
Master the mathematics behind data science with 100+ top-tier guides
Start your free 7-days trial now!
To fill the area underneath a curve in Matplotlib, use the plt.fill_between(~) method:
The three arguments that we've supplied to fill_between(~) are as follows:
the x-values to shade

the upper bound of the y-values to shade in. Note that the lower bound is set to 0 by default.

the transparency of the shaded area.
This gives us the following output: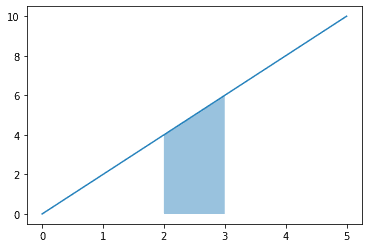 Adjusting the baseline
By default, the lower bound is fixed at y=0. We can set a custom baseline by supplying one additional argument:
Here, the second argument is our new baseline y=1, and the upper bound is set to the line.
The output is as follows: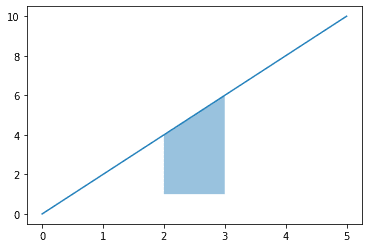 Did you find this page useful?
Ask a question or leave a feedback...
Enjoy our search
Hit
/
to insta-search docs and recipes!