search
keyboard_voice
close
Searching Tips
Search for a recipe:
"Creating a table in MySQL"
Search for an API documentation:
"@append"
Search for code:
"!dataframe"
Apply a tag filter:
"#python"
Useful Shortcuts
Esc
to close search panel
↑
↓
to navigate between search results
⌘
d
to clear all current filters
⌘
Enter
to expand content preview
Doc Search
SORRY NOTHING FOUND!

Voice search is only supported in Safari and Chrome.
Learning Map of Data Science
Visualize the connections between Math and ML topics
Show me the interactive map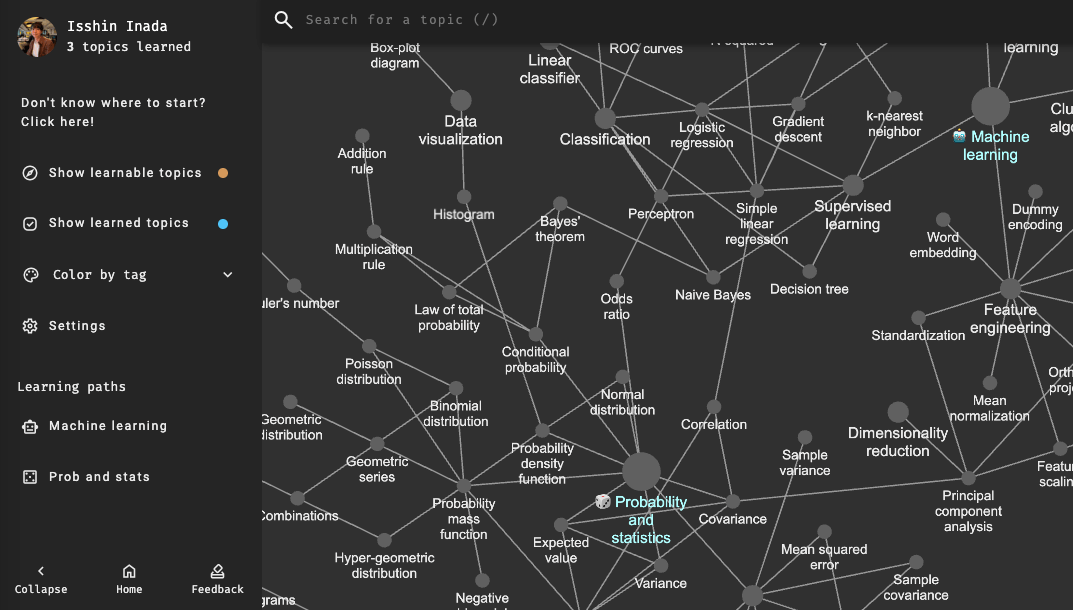 Your personalized learning path
Save your time by learning only the relevant topics based on your goals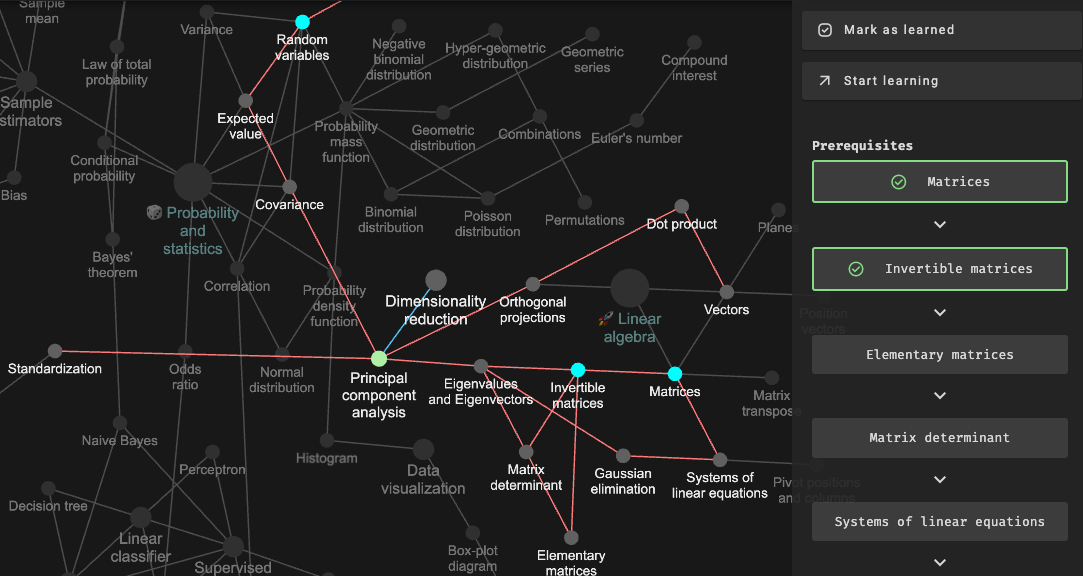 Features of the map
priority
Track your progress
Mark nodes as "learned" and complete the map over time.
article
Comprehensive guides
Every node in the graph corresponds to one of our top-tier guides.
Search for a topic with ease in realtime!
mediation
Show prerequisites
See all the prerequisites of a topic and learn them in order!
explore
Show explorable topics
Given what you already know, see which topics you can learn next!
Expect the map to expand as we write more guides!
Programming for Data Science
1900+ searchable docs and recipes
Meet the team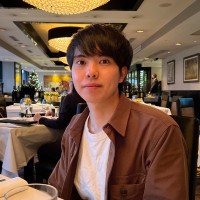 Obtained a bachelors at
UTokyo
and a masters of DS at
HKU
. I'm mainly in charge of the tech-side of SkyTowner, and I love writing articles about data science!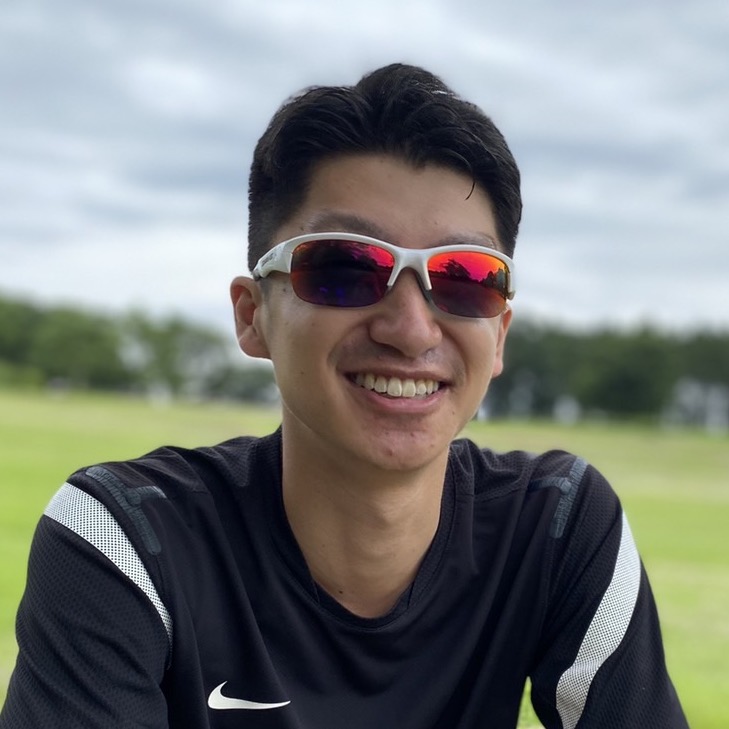 Graduated from
UTokyo
, and now working in the finance industry. I consider myself a citizen developer and write about topics as they come!
Eva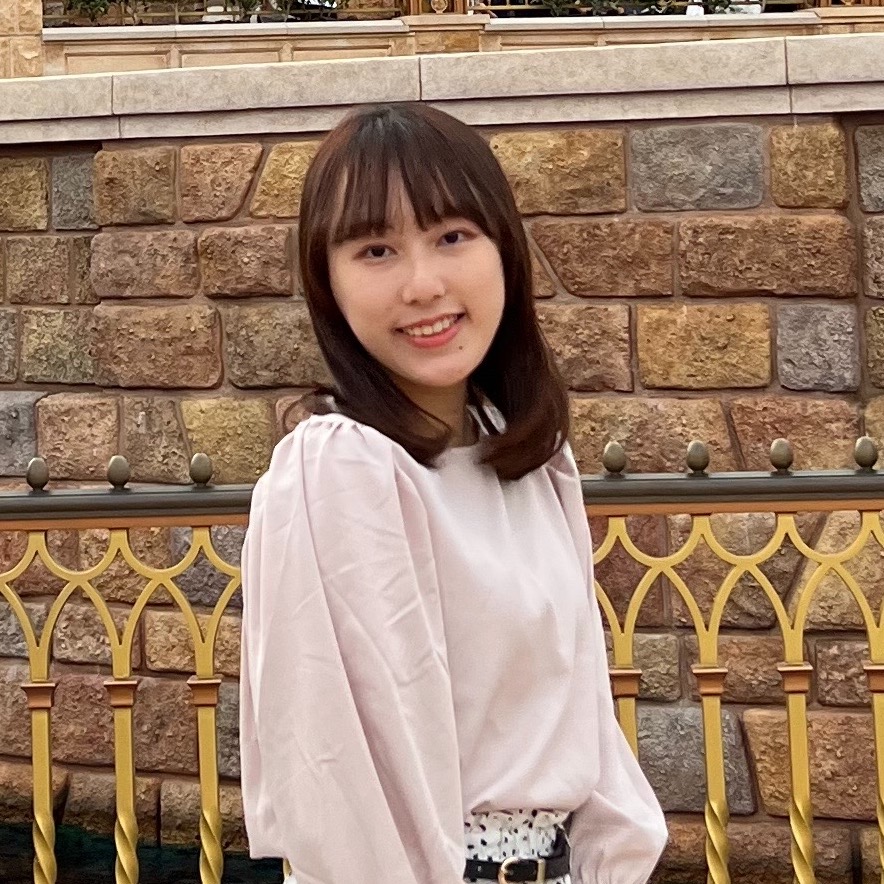 Graduated from
The Hong Kong University of Science and Technology
, and now brushing up my programming skills. I enjoy documenting my learning process on SkyTowner!
FAQ
Why did you start SkyTowner?
We started SkyTowner because we were frustrated with the sheer amount of
bloated low quality articles
out there 🤯 Our goal is to be the central source for DS/ML resources so that you can learn faster and better!
How can I support SkyTowner?
We'd be happy if you could:
promote us by posting about us online or sharing the site with your friends 📣
provide feedback on our articles
subscribe to our premium plan ($4.9/month)
Ready to deep dive into data science?
Use our map to navigate through the vast landscape of data science