Applying an offset to annotations in Matplotlib
tocTable of Contents
expand_more
mode_heat
Master the mathematics behind data science with 100+ top-tier guides
Start your free 7-days trial now!
To apply an offset to annotations in Matplotlib we leverage the xytext and textcoords parameters within the plt.annotate(~) method:
plt.
scatter
([
1
,
2
,
3
], [
4
,
5
,
6
])
plt.
annotate
(i, (x[i], y[i]), xytext=(
5
,
5
), textcoords=
"offset pixels"
)
To explain, we need to set two parameters here xytext and textcoords. The textcoords is needed to apply the offsets, and the xytext allows us to specify just how much we want to offset the annotations by. The xytext takes in a tuple, with the first item being the horizontal offset, and second being the vertical offset.
The output is as follows: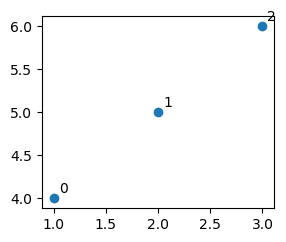 Did you find this page useful?
Ask a question or leave a feedback...
Enjoy our search
Hit
/
to insta-search docs and recipes!