Adding markers to a plot in Matplotlib
Programming
chevron_right
Python
chevron_right
Matplotlib
chevron_right
Cookbooks
chevron_right
Text, Label and Annotations Cookbook
local_offer
Python
●
Matplotlib
Tags
tocTable of Contents
expand_more
We can add markers to a plot in Matplotlib by passing the marker argument when calling the plot(~) method.
plt.
plot
(x, y,
marker=
"x"
)
This produces the following: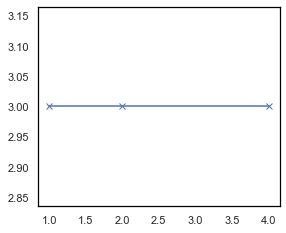 We have used "x" as the marker in this case, however, there are other available options which can be confirmed from the official documentation hereopen_in_new.
mail
Join our newsletter for updates on new DS/ML comprehensive guides (spam-free)

Did you find this page useful?
Ask a question or leave a feedback...
Enjoy our search
Hit
/
to insta-search docs and recipes!