Saving Pandas DataFrame as Excel file
tocTable of Contents
expand_more
map
Check out the interactive map of data science
To save a Pandas DataFrame as an Excel file, use the DataFrame's to_excel(~) method.
WARNING
Make sure you have the openpyxl library installed - otherwise this will not work.
Saving Pandas DataFrame as Excel file
Consider the following DataFrame:
This will create an Excel spreadsheet file in the same directory as the Python script: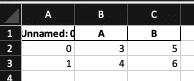 By default, we have an index column as well. Since we did not name the index, this column is called Unnamed.
To remove the redundant Unnamed:0 column, set index=False like so:
This would then give us the following:

Saving highlighted DataFrame as Excel file
Suppose we wanted to save a DataFrame with highlighted cells into Excel:
def
highlighter
(cell_value):
return
"background-color: yellow"
df_new = df.
style
.
applymap
(highlighter)
This produces the following in Jupyter notebook:

The beauty of the to_excel(~) method is that it preserves highlighting:
df_new.
to_excel
(
"my_excel_file.xlsx"
)
This produces the following Excel sheet: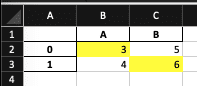 Did you find this page useful?
Ask a question or leave a feedback...
Enjoy our search
Hit
/
to insta-search docs and recipes!