Placing the legend outside the plot in Matplotlib
Programming
chevron_right
Python
chevron_right
Matplotlib
chevron_right
Cookbooks
chevron_right
Legend Cookbook
local_offer
Python
●
Matplotlib
Tags
tocTable of Contents
expand_more
To place the legend outside the plot in Matplotlib, use the bbox_to_anchor argument of the legend method:
plt.
plot
([
1
,
2
],
label=
"my_line"
)
plt.
legend
(
bbox_to_anchor=
(
1
.
05
,
1
))
This would output the following: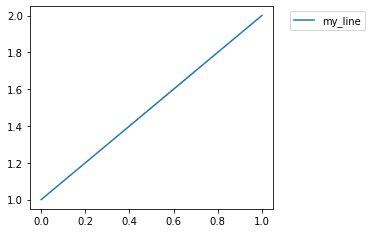 The bbox_to_anchor argument is used to specify the precise placement of the legend. It takes two parameters: the x position and the y position. The actual graph itself is 1 unit by 1 unit, and the origin (0,0) is set to the bottom-left corner while the right-top corner is given the position of (1,1). Therefore, a bbox_to_anchor of (1.05, 1) places our legend outside the graph by 0.05 units to the right of the graph.
mail
Join our newsletter for updates on new DS/ML comprehensive guides (spam-free)

Did you find this page useful?
Ask a question or leave a feedback...
Enjoy our search
Hit
/
to insta-search docs and recipes!