check_circle
Mark as learned
chat_bubble_outline
0
Comment
auto_stories
Bi-column layout
Setting up a MySQL Server
tocTable of Contents
expand_more
mode_heat
Master the mathematics behind data science with 100+ top-tier guides
Start your free 7-days trial now!
We can set up our very own server with our local computer as the host. Note that this is only for learning purposes, and in a real production environment, you would never use your own computer as the host. Open your system preferences, and there should be the following icon:

In order to deploy our server, simply press the 'Start MySQL Server' button. If successful, you should see the word 'running' in green. Note that when we want to close down our server, simply click the 'Stop MySQL Server' button.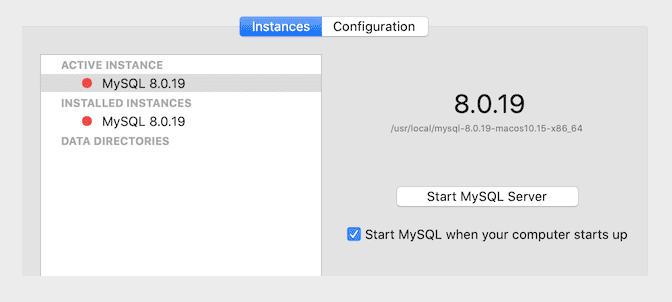 Did you find this page useful?
Ask a question or leave a feedback...
Enjoy our search
Hit
/
to insta-search docs and recipes!